Installation view: Air de Pied-à-terre, Curated by Lisa Cooley and Alan Reid, 2013



Installation view: Air de Pied-à-terre, Curated by Lisa Cooley and Alan Reid, 2013




Birgir Andrésson; Portrait # 17 (He is tall and of average build..); 1999; Silkscreen print on paper; 31 x 23.25 inches; Framed: 33.25 x 25.25 inches; Edition of 10; Signed; Inv# BA002




Installation view: Air de Pied-à-terre, Curated by Lisa Cooley and Alan Reid, 2013




Alan Reid; Beauty, midnight, vision dies; 2012; Acrylic on canvas, on canvas in artist frame; 60 x 48 inches; Singed, dated, titled; Inv# AR147




Installation view: Air de Pied-à-terre, Curated by Lisa Cooley and Alan Reid, 2013




Birgir Andrésson; Still Life (A knife, ten centimetres long, of which the...); 2000; Oil on MDF; 77 x 100 cm; Inv# BA001




Lisa Williamson; Lavendar Clay; 2012; Acrylic on powder coated steel; 96 x 8 x 4 inches; Inv# LWI001




Lisa Williamson; Lavendar Clay; 2012; Acrylic on powder coated steel; 96 x 8 x 4 inches; Inv# LWI001




Lisa Williamson; LeRoy; 2012; Acrylic on powder coated steel; 96 x 6 x 4 inches; Inv# LWI002




Lisa Williamson; LeRoy; 2012; Acrylic on powder coated steel; 96 x 6 x 4 inches; Inv# LWI002




Installation view: Air de Pied-à-terre, Curated by Lisa Cooley and Alan Reid, 2013




Alan Reid; Reason to Love; 2012; Acrylic and canvas, on canvas in artist frame; 60 x 48 inches; Inv# AR150




Installation view: Air de Pied-à-terre, Curated by Lisa Cooley and Alan Reid, 2013




Alan Reid; Winter Catalogue; 2012; Caran d'ache, acrylic and canvas, on canvas; in artist frame; 60 x 48 inches; Inv# AR148





Hanna Sandin; [[[I]][[(][[(][[D][[/][[O][[[M][#]][o]]]]]]; 2013; Steel, nylon coated steel cable, cast concrete, metal strap, door handles, mouth guard, window rim, o-rings, vent, screen patch; Dimensions variable; Inv# HS001



Hanna Sandin; [[[I]][[(][[(][[D][[/][[O][[[M][#]][o]]]]]] (detail); 2013; Steel, nylon coated steel cable, cast concrete, metal strap, door handles, mouth guard, window rim, o-rings, vent, screen patch; Dimensions variable; Inv# HS001




Darren Bader; A conversation between two plants; A conversation between plants from different species; A conversation between a plant and something made of plant cells ; A conversation between Tim and Gaffi; A conversation between you and some energy source you don't care about; (A conversation between you and) something you believe in; A plant with a hat; Inv# DB001




Matthew Darbyshire; T Room (Banner J); 2012; Vinyl; 151 x 549 inches; Inv# MD002




Sister Corita; So Soft; 1971; Serigraph; 23 x 23 inches; Framed: 25.75 x 25.75 inches; Edition of 200; Signed; Inv# SCO001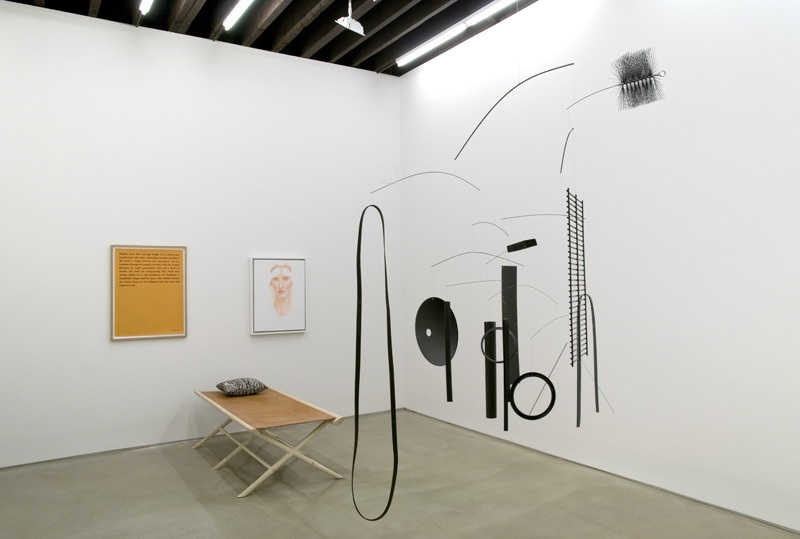 Installation view: Air de Pied-à-terre, Curated by Lisa Cooley and Alan Reid, 2013




Installation view: Air de Pied-à-terre, Curated by Lisa Cooley and Alan Reid, 2013




Birgir Andrésson; Portrait # 6 (Slightly more than average height); 1999; Silkscreen print on paper; 31.5 x 23.5 inches; Framed: 33.75 x 25.75 inches; Edition #1 of 10; Inv# BA003.1




Alan Reid; Indirect Object; 2012; Caran d'ache, acrylic and canvas, on canvas in frame; 28 x 21 inches



Hanna Sandin[[[()][[I][[0][[[/][O]][o]]]]][[IIII][[#][[U][[-][[[O][J]][I]]]]]]]2013Steel, nylon coated steel cable, vinyl edge, charcoal brick, grill, chimney brush, squeegee replacement rubber, machine band, squirrel baffle, aluminum doorway threshold, stovetop drip pan, door guardDimensions variableInv# HS002




Hanna Sandin; [[[()][[I][[0][[[/][O]][o]]]]][[IIII][[#][[U][[-][[[O][J]][I]]]]]]] (detail); 2013; Steel, nylon coated steel cable, vinyl edge, charcoal brick, grill, chimney brush, squeegee replacement rubber, machine band, squirrel baffle, aluminum doorway threshold, stovetop drip pan, door guard; Dimensions variable; Inv# HS002



PRESS RELEASE

Lisa Cooley is pleased to present Air de Pied-à-terre, an exhibition curated by Lisa Cooley and Alan Reid. Air de Pied-à-terre is a collection of works that address notions of the interpretive space between object and viewer, theatrically situated in a hypothetical pied-à-terre. As a pied-à-terre suggests transience, the objects collected here provide evidence of a range of thought in motion, attempting to isolate something overlooked, vague, emptied, or internalized.

In Birgir Andrésson's work, the interpretive process of sight (simply looking at a still life or portrait) is given form, both visually and linguistically, directing our attention to the interpretive formation of words employed in apprehending experience. The mobiles Hanna Sandin constructs, composed of domestic cast-off materials, seem to track time's constant, although often imperceptible change. Alan Reid's paintings exhibit affecting emotive prowess, courting ambiguity and open lightness as a means to joyfully confuse the polarities of perfection and vulnerability.

Lisa Williamson's wall-mounted and boldly colored forms have a meditative, hovering sensibility, relaying the figure and architectural space through distinct sculptural lines. Similarly, Mattew Darbyshire's hanging banners, printed with a reproduction of an architect's image of a Mackintosh-inspired public space, explores the vague assurance of a historically elapsed style.

Darren Bader's work isolates impulses for expressive potential, turning over and again the egoistic urge to name, lay-claim, or dismiss the world around us. Sister Corita's oeuvre looks at pop culture's codes and forms to announce the transcendent possibility of hope and relief from the secular world through a Christian savior.

Also exhibited are a selection of functional design objects.

Birgir Andrésson represented Iceland at the 1995 Venice Biennale and in 2006, the National Gallery of Iceland hosted a retrospective of his work. Recent exhibitions include solo shows at the Museum Abteiberg, Mönchengladbach; i8 Gallery, Reykjavik; the Foksal Gallery Foundation, Warsaw; and Nils Staerk Contemporary Art, Copenhagen; as well as a two-person exhibition with Poul Gernes at Sean Kelly Gallery, New York in 2011.

Darren Bader was born in 1978 and currently lives in New York. He received his BFA from New York University. Recent solo shows include Sadie Coles, London; MoMA PS1, Brooklyn; and Andrew Kreps Gallery, New York. Select group exhibitions include Blind Cut, Marlborough Gallery, New York; Sculpture is three-dimensional artwork..., Johan Konig Gallery, Berlin; Looking Back / The Fifth White Columns Annual, White Columns, New York; and Greater New York, PS1 Center for Contemporary Art, New York.

Sister Corita was born in Fort Dodge, Iowa in 1918. She grew up in Los Angeles and joined the Order of the Immaculate Heart of Mary in 1936. She received her MA from the University of Southern California in 1951. Her serigraphs have been shown in solo shows at the National Museum of Women in the Arts, Washington; Contemporary Art Gallery, Vancouver; Zach Feuer Gallery, New York; Hammer Museum, Los Angeles; and Museum Ludwig, Germany. Group exhibitions include California Design, 1930-1965, Los Angeles Museum of Contemporary Art, Los Angeles; The Personal is Political: Women Artists from the Collection, Museum of Contemporary Art, Los Angeles; and Freedom of Speech, Kunstverein Hamburg, Neue Berliner Kunsverein, Germany.

Matthew Darbyshire was born in 1977 and lives and works in London. He received his BA from Slade School of Fine Art and a post-graduate diploma at the Royal Academy. Solo exhibitions include Tramway, Glasgow; Jousse Enterprise, Paris; Taro Nasu, Tokyo; and Herald Street, London. Select group exhibitions include You Are Not Alone, Bangkok Art and Cultural Centre, Thailand (traveled to Miro Foundation, Barcelona and MARCO, Museum of Contemporary Art, Vigo; The Shape We're In, Zabludowicz Collection, London, New York; and The British Art Show, The Hayward gallery, London.

Alan Reid was born in 1976 in Texas and currently lives and works in New York. Recent exhibitions include A Palazzo, Brescia; Mary Mary, Glasgow; Galerie Jacky Strenz, Frankfurt; Talbot Rice, Edinburgh; and Keno Twins 5, curated by Michael Bauer at Barriera, Torino. Reid will be included in the second edition of Phaidon's Vitamin D and will have a solo show at the gallery in April 2013.

Hanna Sandin was born in 1981 and lives and works in Brooklyn. She received her BFA from Rhode Island School of Design. Solo exhibitions include Galerie Hervé Bize, France; Fake Estate, New York; and A.I.R. Gallery, New York. Select group exhibitions include Logic of Association, PS1 Contemporary Arts Center, Queens; Cleopatra's presents, Leo Koenig, New York; and Interference with twigs, Mary Mary, Glasgow.

Lisa Williamson was born in 1977 and currently lives and works in Los Angeles. She received her MFA from the University of Southern California and her BFA from Arizona State University. Recent solo shows include Shane Campbell Gallery, Chicago; Unosunove Arte Contemporanea, Rome; and a two-person exhibition at The Box, Los Angeles with Sarah Conaway. Select group exhibitions include Made in LA, Hammer Museum, Los Angeles; Phases, Wallspace, New York; Auteur / Amateur, Layr Wuestenhagen, Vienna; and Reframing, CCA Andratx Kunsthalle, Mallorca.

The gallery is located at 107 Norfolk Street, just one block east of Essex Street between Rivington and Delancey. Gallery hours are Wednesday through Sunday, from 10am to 6 pm, and always by appointment. The closest subways are the F/J/M at the Delancey/Essex stop and the D at Grand Street. For more information, please contact Kelly Woods at kelly@lisa-cooley.com or 212-680-0564.